The Merino Wool Zip-Hoodie
Shipping in Germany is €3.50, in EU countries €9.50
Model also wearing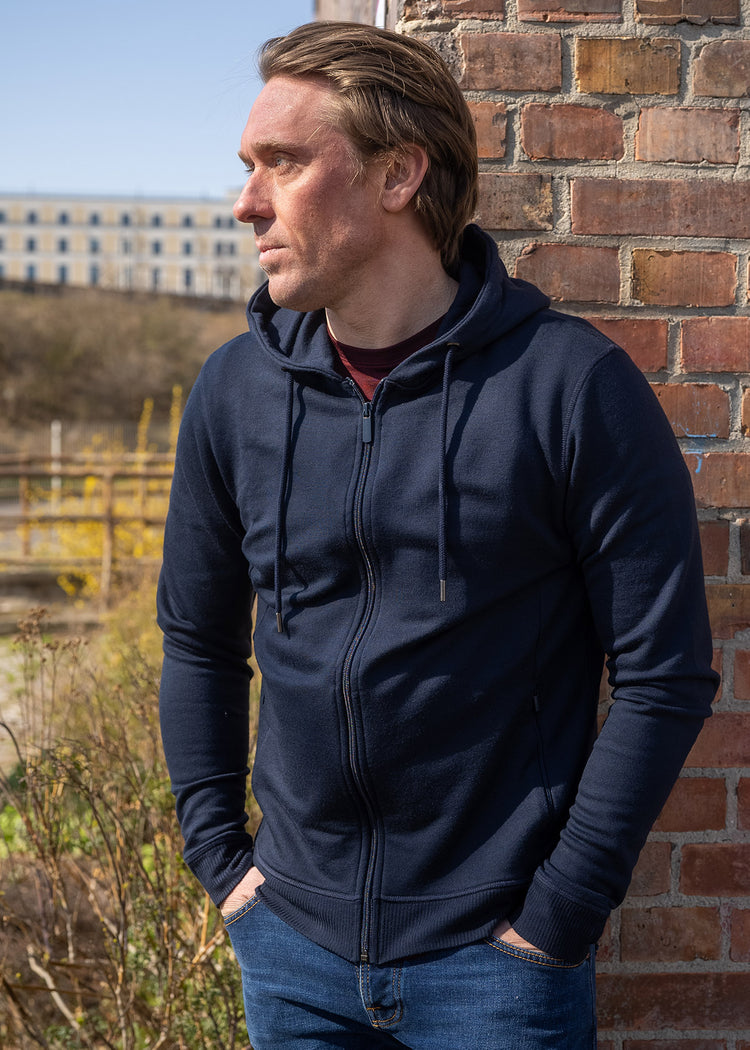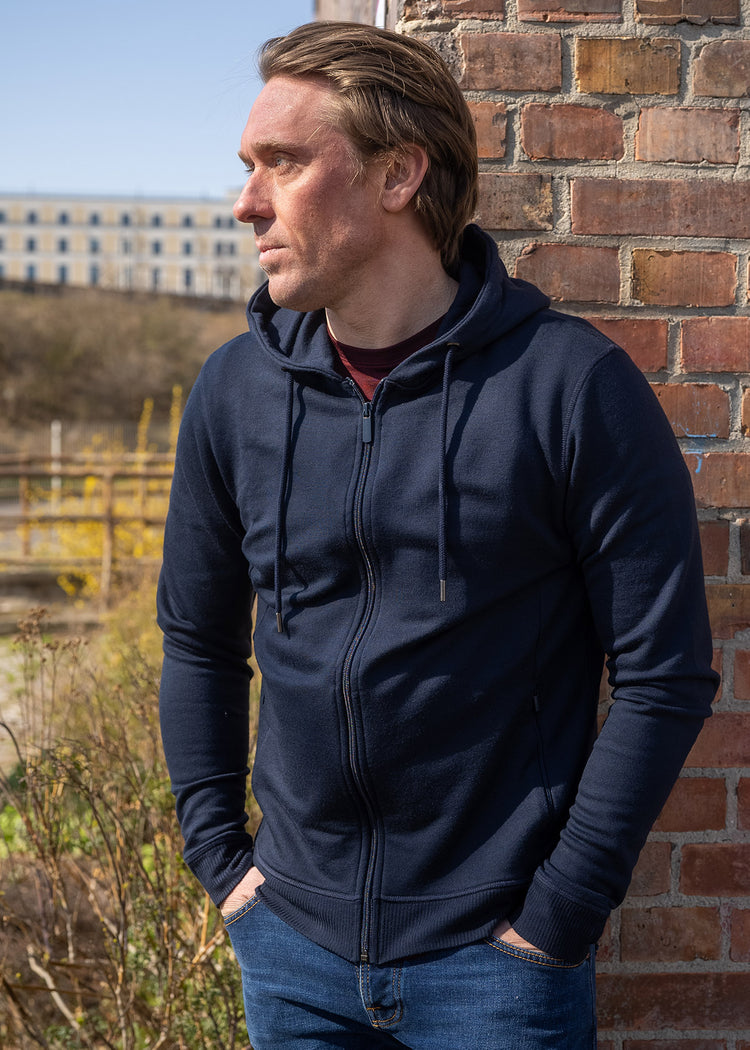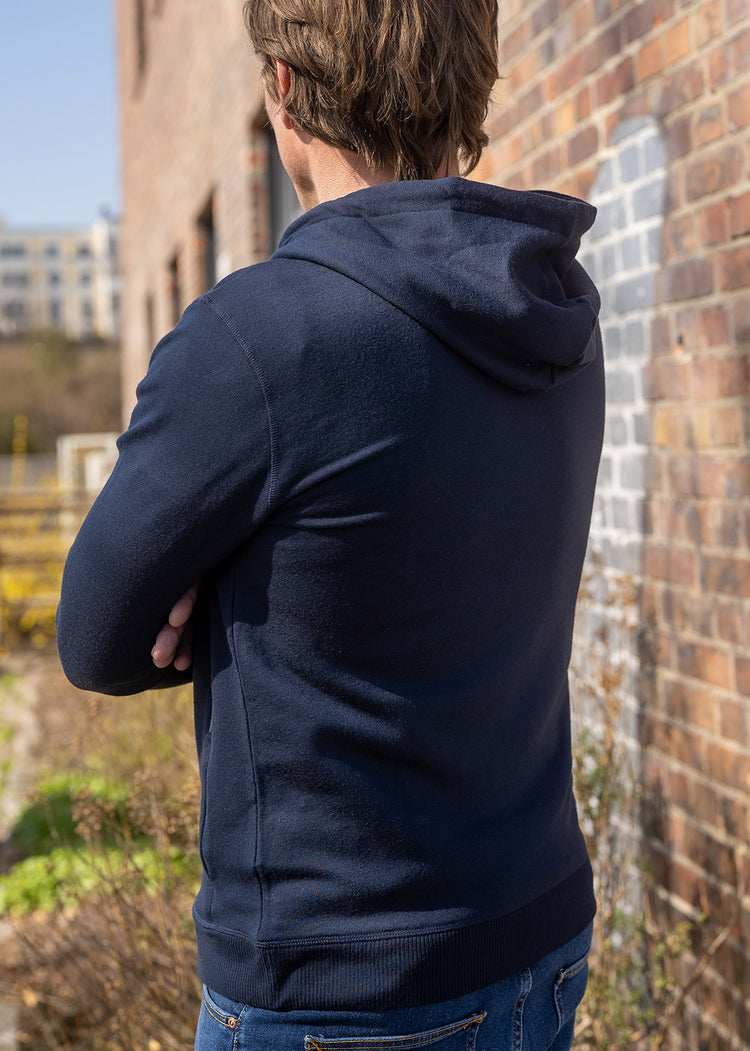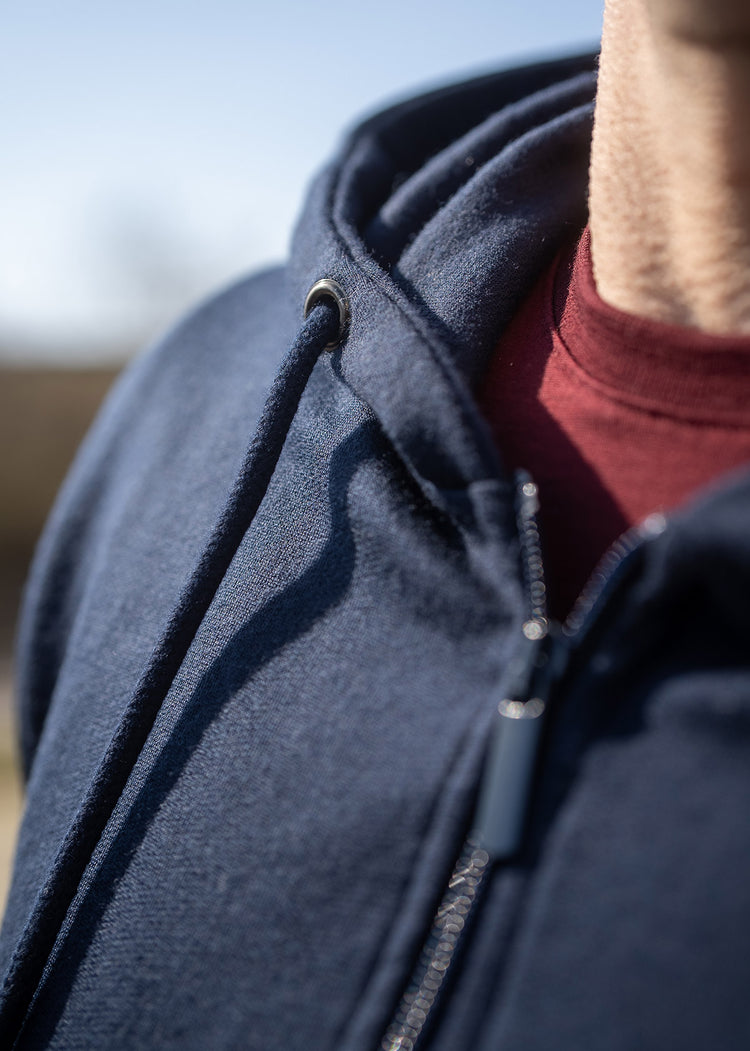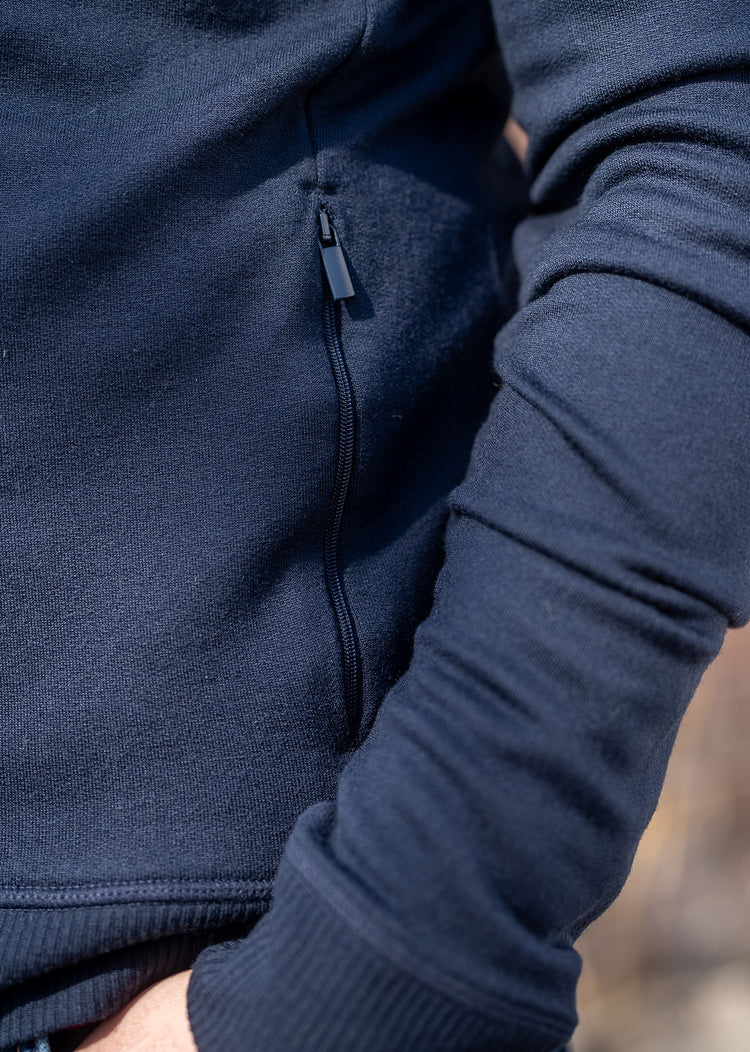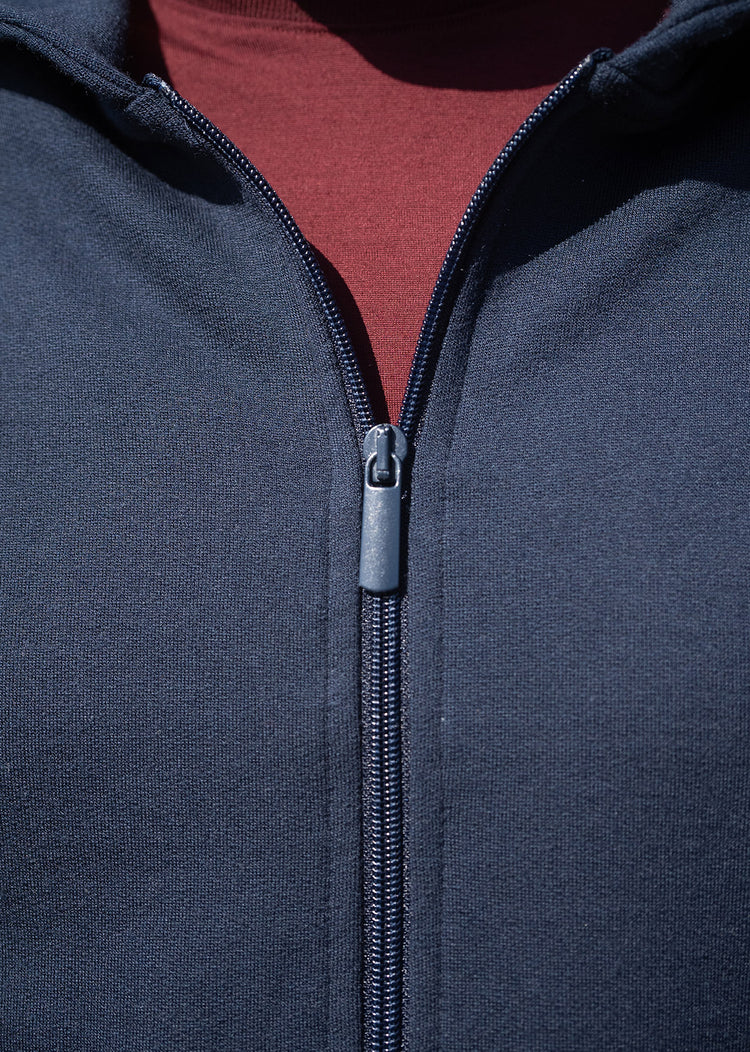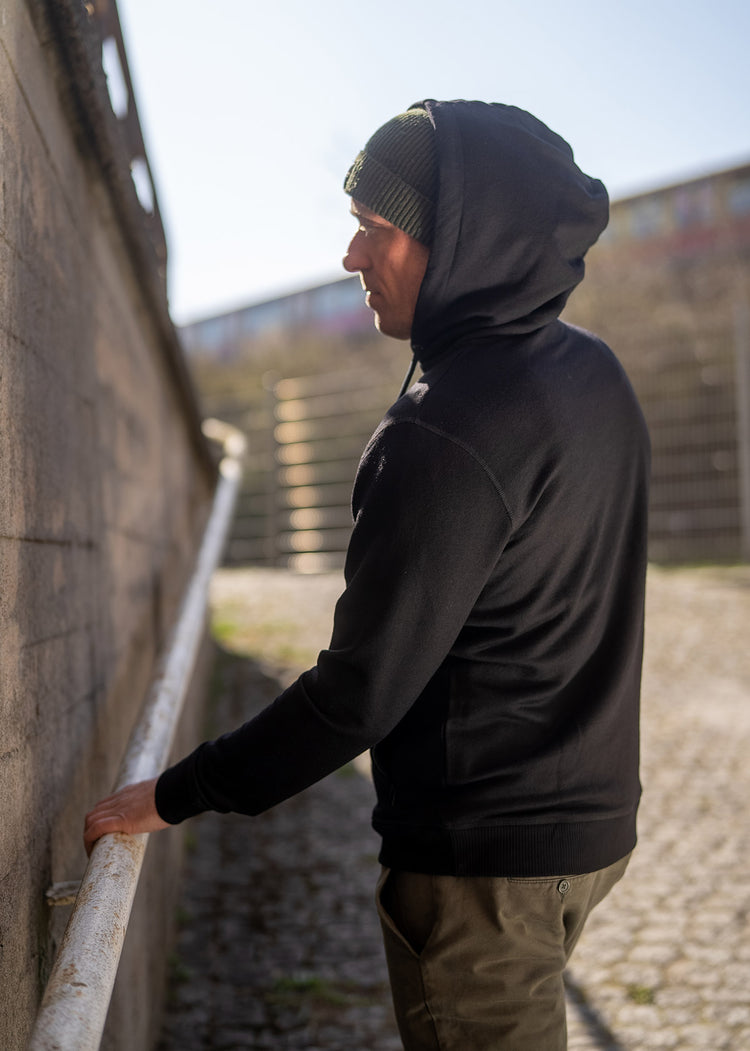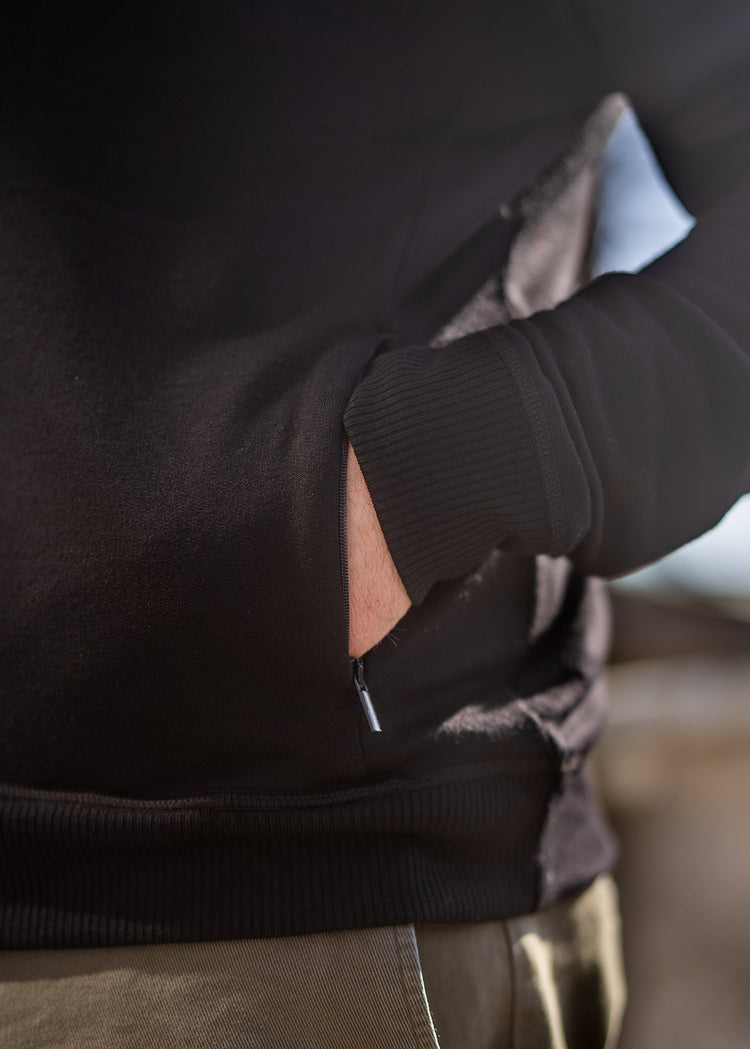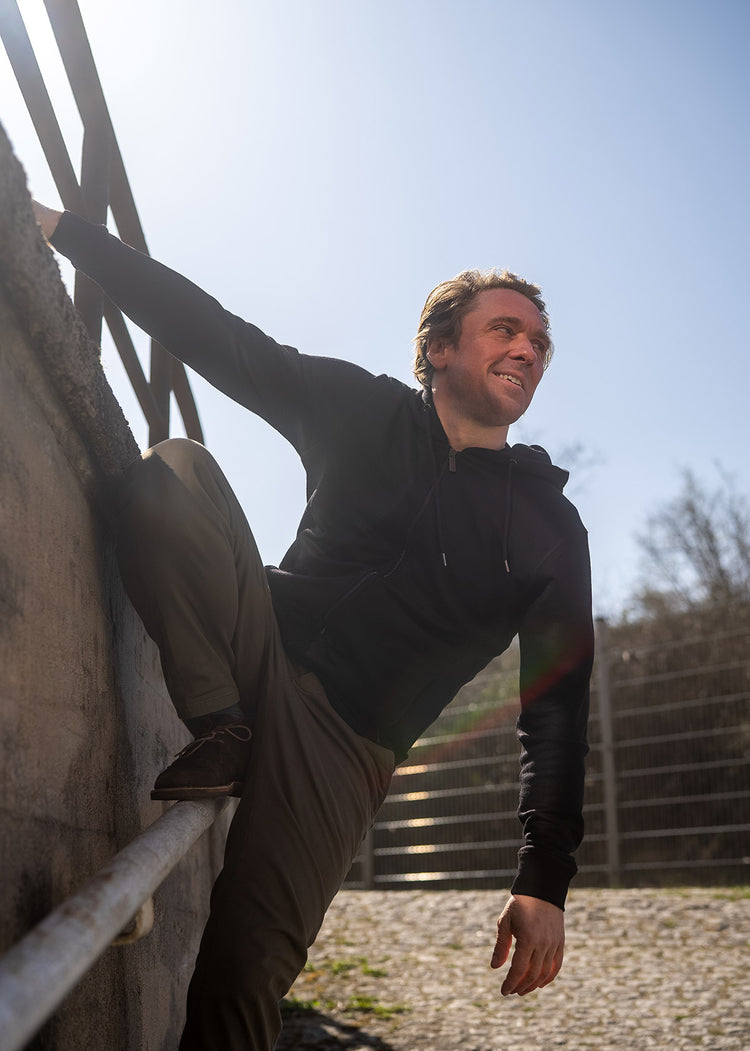 Product Details
Everyday Merino Basic

Our Merino Zip-Hoodie is the first sweater made from a classic loopback of 100% finest merino wool. It's so versatile and comfortable that you can wear it to sports, the office, or an isolation layer or light jacket. The natural function of the merino wool makes this Zip-Hoodie an actual 'sweater', with perfect moisture management and natural temperature regulation.

Today, the hoodie is an essential part of our everyday wardrobe. But its history goes back to the 1920s when athletes and workers in the US started wearing hooded sweatshirts to stay warm. Back then, the Hoodie began its rise as an iconic garment for young subcultures, with significant influences on hip-hop, skateboarding, college culture, and digital businesses. Our WOOLDAY Hoodie continues this exciting story with the first loopback hoodie made from pure merino wool.
Quality

We're rewinding history with our loopback sweatshirts made from pure merino wool. In 1930 Benjamin Russell introduced the cotton sweatshirt to replace scratchy wool sweaters in sports. The material was a fine knit on the outside and loops similar to terry cloth on the inside, which are soft on the skin and supposed to wick sweat.

Almost 100 years later, we have developed an authentic 330-gram loopback made from the finest merino wool, which can only be distinguished from a cotton sweat fabric by its exceptional function when worn. The yarn on the inside is exceptionally soft and scratch-free, and on the outside, we use more robust wool so that our shirt can accompany you on every adventure.

For the first time, you can speak of a sweatshirt because our wool is not only soft but also highly breathable, temperature-regulating and moisture-wicking. And, of course, antibacterial. So ideal for sports.

We reinforced all stressed seams with a triple-cover stitch. Finally, for best functionality, we've developed a robust 2x2 rib for the cuffs made from 100% merino wool - completely plastic-free. Its elasticity is fascinating, and it completely retracts into shape when regenerating.



Raw Material: 100% Super Fine Merino Wool from Australia, 17.2 microns inside, 20 micron outside, mulesing-free
Yarn: Nm 80/2, S twist and Nm 60/2, S-twist
Fabric: Loopback (French Terry), 330g/m2
Collar: 2x2 rib knit, 55g0/m2
Dyeing: Reactive piece dyeing

Find the complete supply chain in the "Full Tranparency" section.
Details & Fit

• 100% superfine merino wool from Australia
• 330g/m2 Loopback (French Terry)
• 2x2 rib cuffs from pure wool
• hidden zip pockets in side seam
• double lined hood
• self-repairing zippers in fabric color
• fitted sleeves
• straight cut
• reinforced seams with triple cover stich

If you are unsure about your size, look into our size guide or write us at friends@woolday.eu
Care

• Wool or delicates wash at 30°C
• wash inside out with closed zippers
• only wash with similar colors (dark colors can easily bleed)
• dry flat in the shaddow
• Iron at low temperature (100°C)
• do not dry, bleach or dry clean
• please wash before wearing the first time

You can find all wool care and washing tips in our Care Guide
Benefits of our Merino Wool
Merino wool is antibacterial and prevents odours. Air it out after each wear and it regenerates.

Merino keeps your skin climate in control with its natural ability to cool or heat.

Merino fibres look like a spiral spring. Therefore it's almost not wrinkling and hangs out itself.

Our wool is superfine and soft. Completely itch free. You won't find more comfortable shirts.
Full Transparency
We think transparency is fantastic. It gives you, as a consumer, a better understanding of the value of your purchases and the ability to decide what kind of making you want to support or impede.
So transparency should be the standard, not the exception. It also helps us as a company to understand where we still lack knowledge. So hopefully, in the end, this enables us to provide you complete transparency on every step from farm to factory, the cost of our garments and the impacts our business has on people and planet. 
56.23

€

True Cost of this garment

75

%

Traceability
These are the exact costs for the craftsmanship for this garment:
| | |
| --- | --- |
| | |
| | |
| | |
| | |
| | |
| The making of this garment costs | |
160
€
Logistics

(Our share for Logistics & Packaging. Total is €7.)
Our margin covers salaries, office & store rents, new product development & research, sales and marketing expenses, and investments in advanced and sustainable manufacturing processes.
We take 5% of the net revenue from every sale and invest it in sustainable innovation. These projects along our supply chain are environmental, scientific or societal innovations that help our business and products respect planetary and social boundaries.
Learn, how far we can trace back the origin of our garments and where we still need to improve.

30

% Raw Wool Origin Traceability

Raw Wool: Superfine and mulesing-free Australian Merinowool (17.2 micron) farmed, sheared and sorted in New South Wales, Australia (we are working to establish a direct farm supply). Wool Washing, carding & combing: China (investigating the exact origin).

100

% Fabric Milling Traceablility

Spinning: Wool spun and twisted in Lodz, Poland. Knitting: 330g/sqm Loopback Fabric round knitted in Hof, Bavaria, Germany. 550g/sqm 2x2 rib fabric knitted in Hof, Bavaria, Germany. Finishing: Fabrics dyed, shrunk and finished in Albstadt, Baden-Wurttemberg, Germany.

100

% Garment Making Traceablility

Garment Making: Sweater fabric cut, Sweatshirt sewn, ironed and folded in Braga, Portugal.

100

% Necessities Traceablility

Label: Label woven with 100% reused polyester in Braga, Portugal.
Packaging: Grass paper made and cut in Tornesch, Schleswig-Holstein, Germany. Printed card box made in Fröndenberg, North Rhine-Westphalia, Germany. Welcome Card printed in Berlin, Germany.
Shipping: Packed by us and shipped with carbon-offsetting by DHL GoGreen from our warehouses in Sulzburg & Berlin, Germany.